The Commission: Meet the Commissioners
Commissioner Randy Christmann (current chair)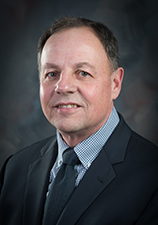 Randy Christmann was elected to the North Dakota Public Service Commission in November 2012 and re-elected in 2018 with a majority of votes in 49 of the 53 counties. He brings to the Commission a background in agriculture, telecommunications, and 18 years in the North Dakota Senate representing energy country. Most of all, he brings what the Minot Daily News called a "let's work together attitude."

Outside of government service, Randy operated a 117 year-old third generation cattle ranch west of Hazen, North Dakota. His wife, Bethanie, is a mortgage underwriter with Bravera Bank. Before graduating from Hazen High School in 1978, Randy enlisted in the North Dakota Army National Guard. He also enrolled at North Dakota State University and graduated from there in 1982 with a bachelor's degree in business administration.

Randy was elected to the North Dakota Senate in 1994, helping Republicans achieve majority status in the North Dakota Senate. Governor Ed Schafer appointed Randy to serve as one of the two legislative appointees on the Lignite Research Council. He continued to serve in that position under Governors Hoeven and Dalrymple.

Following the statewide general election in 2000, Senate Republicans chose Randy to serve as their Assistant Majority Leader. He was re-elected to that post every two years through 2012. He also served on the Senate Appropriations Committee.

From 1999 through 2012 the members of West River Telecommunications Cooperative elected Randy to serve as a director. During part of this time Randy also served as the president of the North Dakota Association of Telecommunications Cooperatives.

Randy now brings his agriculture, telecommunications, and energy industry background to the Public Service Commission. He has led the effort to implement rules for future decommissioning and reclamation of wind farms and solar farms, serves as a PSC representative on the Lignite Research Council, and serves as a PSC representative for the multi-state Southwest Power Pool. He is the current chair and his portfolios include:
Business Operations
Coal mining, reclamation, and abandoned mine lands
Auctioneer and Auction Clerk Licensing
Telecommunications
SPP/RSC

Hi-resolution photo (6.57Mb jpg 360dpi)