The Commission: Meet the Commissioners
Commissioner Julie Fedorchak (Current Chair)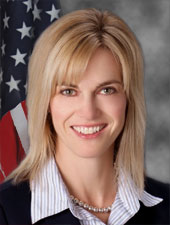 Julie Fedorchak has served on the Commission since 2012 and is the current chair. She heads the business operations; pipeline, electric transmission and energy conversion siting; railroad; MISO/OMS; and economic regulation-gas portfolios.
Julie is the second vice president of the National Association of Regulatory Utility Commissioners (NARUC), immediate past president of the Organization of MISO States (OMS), vice-chair of the NARUC Gas Committee and vice president of the Gas Technology Institute's advisory board. She is a member of the Aspen Institute's Rodel Class of 2015.
A North Dakota native, Julie was appointed to the Public Service Commission in December 2012 by Gov. Jack Dalrymple. She was confirmed by voters in 2014 and in 2016 she was elected to a full six-year term.
Julie's overarching priority is to make government more responsive to North Dakota citizens. With her leadership, North Dakota became the first state to mitigate the light pollution caused by continuous red blinking lights on wind generators spanning the state's open landscape. She has pushed for innovative ways to connect rural areas to natural gas service and led efforts to enhance the Commission's pipeline reclamation program and tree and shrub mitigation plans. Julie developed and received legislative approval for a state rail safety program and is a tireless advocate for reliable, affordable utility services. She also reinstated the Commission's consumer affairs portfolio to provide greater public awareness, participation, and transparency in the work of the PSC.
Julie graduated with honors from the University of North Dakota and is married to Mike Fedorchak of Minot. They have three children and live in Bismarck. Julie is a trustee for the University of Mary, board member of the Missouri Valley United Way and is a regular volunteer for her local homeless shelter. In her free time, she enjoys reading, cooking, entertaining, swimming and biking.
Hi-resolution photo (823kb jpg 300dpi)